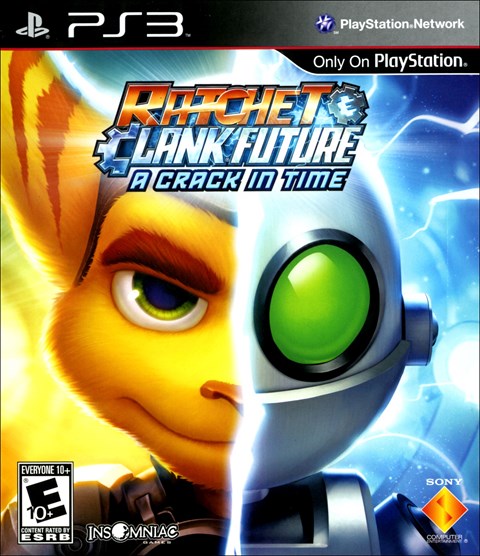 With the recent release of Ratchet and Clank: Into the Nexus (which I plan to review) for the PlayStation 3 as one of the many strong swansong titles for the PlayStation 3's last year, I decided to look at what I and many people would consider the best Ratchet and Clank game on the PS3. For me, Ratchet and Clank has been a solid franchise for Sony, but it hasn't been my favorite due to some design issues I take offense to. The first game on the PlayStation 2 doesn't age as well as some might think, and Ratchet and Clank as characters weren't that likable. I was actually enjoying the villain more, but then again, the villain was voiced by Kevin Michael Richardson, and I like his work in voice acting. The second and third games were much better, but the second game becomes unplayable at times if you don't upgrade your weapons enough due to the really tedious difficulty, and the third game just didn't do anything new and had a really obnoxious boss fight near the end. The PlayStation 3 entries of the franchise were when I started to really enjoy the series. Maybe it was because the PlayStation 3 games had better story, villains, gameplay, and weapons that made me really want to see the games from beginning to end. Who knows really, but let us get started, shall we?
So, where does the story start for us new space adventurers? It pretty much starts off with Quark, once again voiced by Jim Ward, recapping for us the events from Tools of Destruction and Quest For Booty. Ratchet, voiced again by James Arnold Taylor, is searching all over the galaxy to find Clank, voiced by David Kaye, who was captured by an alien race called the Zoni. The story deepens when Clank finds himself in a large space station in the exact center of the universe (minus 20-30 feet) that is run by the notorious Dr. Nefarious, voiced by Armin Zimmerman. Clank also gains the ability to control time, using a weird staff left by a Zoni scientist named Orvus, voiced by Charles Martinet. Ratchet, on the other hand, finds himself in the company of another Lombax named Alister Azimuth, voiced by Joey D'Auria. Ratchet finds out that Alister was once friends with his father. The story is actually really good, even if it might have some weak moments. I just think they took what were the best parts of the previous game's stories, and put them into this game. Like I said, it has its weak moments, but you will want to see this game through to the end.
This game doesn't really deviate from how it plays from the previous games. Luckily, they added some new gameplay elements, since you will be playing as both Ratchet and Clank separately. Let us talk about Ratchet's gameplay style first. His gameplay is like the ordinary run-and-gun platforming you have played in the past games. The only difference is that you will not have the helpful abilities of Clank alongside you for most of the game. However, you will be getting gadgets that will help you with the platforming. You will get an array of unique and entertaining guns that will rack up a body count faster than the counter in Hot Shots: Part Deux. Clank, on the other hand, has more of a platforming and puzzle-solving game. You will use Clank's new time traveling ability to solve multiple puzzles inside Dr. Nefarious's fortress. Some of the puzzle solving will even include Clank having to clone himself to tackle some of the levels. Outside of the levels Ratchet and Clank have to tackle, Ratchet will be able to pilot his own ship, and fly around in huge open areas of space to tackle space combat and take on side quests. There are also the usual battle arenas that you can go through, and other objectives that will give you multiple hours of game time. There is no multiplayer, but this game shows that you don't need multiplayer to extend your game's life span.
Even though the PlayStation 4 is out, and this game came out in 2009, this game looks amazing. I just love the detail and animation put into the franchise during the PlayStation 3's lifespan. It is just a beautiful looking game with a lot of great colors, showing that you can have color in your games. The music is well composed by Boris Salchow. I can't find anything else about this guy, but he does a great job bringing the sci-fi world to life. Voice acting is also top notch. Then again, they do have some credible talent like David Kaye, James Arnold Taylor, Armin Shimmerman, James Ward, and you get the idea. It is just an overall excellent package from a talented studio.
So, in my opinion, where does this game fall flat? The biggest issue with this game is that there really isn't too much different with the overall experience that is better than, say, Tools of Destruction or Up Your Arsenal. Sure, the different gameplay styles of the main characters are welcomed, but in the end, it is just another Ratchet and Clank game. However, that doesn't really bother me. I mean, we have seen what they have done with making spin-off titles, so it doesn't hurt to have a game that is rather familiar with the other games in the series.
Like I said, even though people wanted to see something different from the franchise, I am glad that this game and the most recent game stay true to what made the franchise so popular. I know All 4 One is gaining a hidden gem status, and Full Frontal Assault is a solid tower defense game, but you shouldn't deviate too far from the formula and make it so different that it's nothing like its original games in the franchise. I really enjoy this game, and it is my personal favorite game out of the franchise. I would highly recommend picking this game up for whatever price you can find it for, and heck, pick up the entire franchise while you are at it. I can't wait to play the most recent game, and from what I hear, it's pretty good. Here is hoping that we see more of the Lombax and robot duo in the future for the PlayStation 4.
This game gets a 9 out of 10.